Are Fire Pit Tables Worth It?
Fire pit tables have become increasingly popular in recent years, and for good reason. They provide warmth, light, and a cozy ambiance to outdoor living spaces, making them perfect for entertaining or simply relaxing with family and friends. However, many people wonder if investing in a fire pit table is really worth it. In this article, we will explore the benefits of fire pit tables and help you decide if they are worth the investment.
Fire Tables Provide Warmth
One of the main benefits of a fire pit table is the warmth it provides. Whether you're sitting outside on a cool evening or trying to extend your outdoor living season into the fall or winter, a fire pit table can help keep you warm and comfortable. The heat generated by a fire pit table can also help keep insects at bay, making it more pleasant to spend time outdoors.
In addition to providing warmth, fire pit tables also enhance the ambiance of outdoor living spaces. The flickering flames create a beautiful and relaxing atmosphere that is perfect for entertaining or simply unwinding after a long day. Fire pit tables can also be customized to match your personal style and aesthetic, making them a beautiful addition to any outdoor space.
Extends the Use of the Backyard
In most regions, fire pit tables can be used most of the year, making them a great investment for those who love spending time outdoors. In the fall, you can roast marshmallows when the evening gets cooler.  When winter arrives, you can warm up by the fire pit after playing in the snow.  During the early days of spring, when you are itching to get outside, a fire table will keep you warm on those cool evenings. Even in the summer, a fire pit table is perfect by the pool or your outdoor kitchen for some ambiance and a little extra light. 
Fire Tables are Durable and Easy to Use
Fire pit tables are generally easy to use and maintain. Many models are powered by propane or natural gas, which means you don't have to worry about the hassle of starting a fire or cleaning up ashes. Additionally, quality fire pit tables are made from materials that are resistant to weather and wear, making them easy to care for and long-lasting.
Are Fire Pit Tables Really Worth It?
The answer is yes, if you want to create an inviting and comfortable outdoor living space. Fire pit tables provide warmth, ambiance, and versatility that make them a great investment for any homeowner. With a variety of sizes, materials, and designs to choose from, there is sure to be a fire pit table that meets your specific needs and style preferences.
Are Stoll Custom Fire Tables Worth It?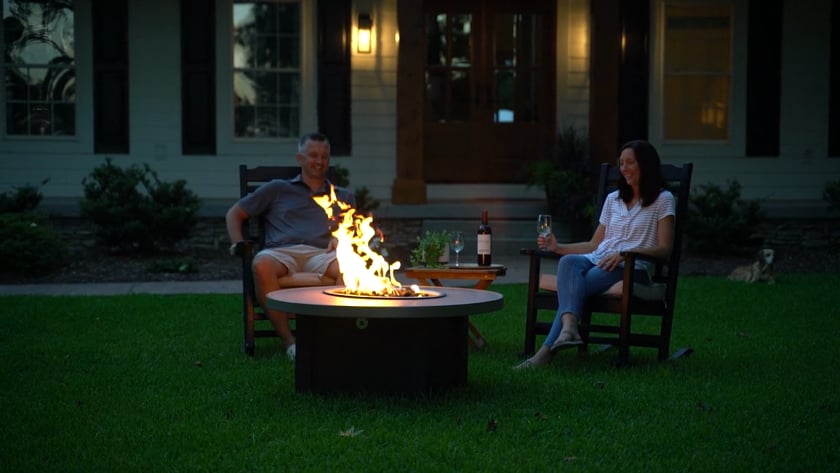 Everything we do, we do with heart and excellence – and our fire tables are no exception. This premium product isn't for the average backyard.  Our fire tables are designed for those who are looking for a quality, hand-crafted, American-made product that will stand up to the test of time. Here is a short list of things that set our fire tables apart. 
Custom options for a unique look
15+ durable, outdoor-rated finish options
Exceptionally fast production times (especially on quick-ship tables)
Matches Stoll custom outdoor kitchens
Custom sizes for BIG or SMALL backyards and patios
Creates MORE warmth than models from the big box stores
Option to choose your own burner
Optional wind shields for increased function and duraility
Use with propane or natural gas
By choosing the size, color, features, and design elements that work best for your needs, you can create a one-of-a-kind piece that will enhance your outdoor enjoyment. Whether you're looking to create a cozy spot for relaxing with family or a gathering place for entertaining friends, a custom fire pit table can help you achieve your backyard goals!